Introducing our stunning petal-shaped sofa, a true masterpiece that combines beauty and functionality. Crafted with eco-leather, this sofa embodies the premium blend of style, durability, and environmental consciousness.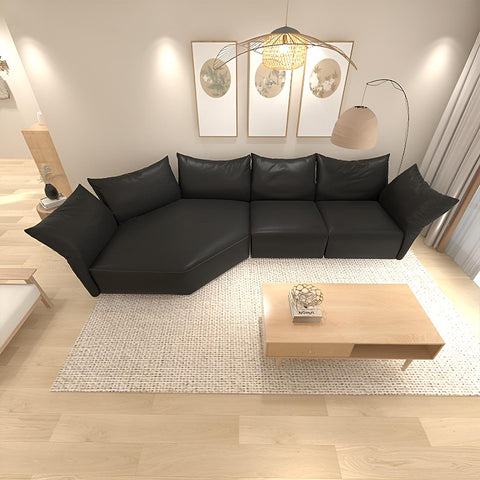 Eco-friendly
The eco-leather upholstery not only adds a touch of luxury but also reflects our commitment to sustainability. Made with eco-friendly materials, this sofa offers a cruelty-free alternative without compromising on aesthetics or quality.
Quick clean
One of the standout features of our petal-shaped sofa is its water-resistant and stain-resistant properties. Accidents happen, but with this sofa, spills and messes are easily wiped away, keeping the surface pristine and free from stains. Enjoy peace of mind knowing that your sofa is both beautiful and practical.
Excellent comfort
Indulge in the sumptuous comfort of our sofa's soft and plush cushions. Sink into the gentle curves and experience unparalleled relaxation. Whether you're unwinding after a long day or enjoying quality time with loved ones, this sofa provides a cozy and inviting seating experience.
The petal-shaped design of the sofa adds a touch of elegance and uniqueness to your living space. Inspired by nature, the delicate petal-like contours create a visual statement, making this sofa a focal point in any room. It's not just a piece of furniture; it's a work of art.
Features
Solid wood frame
High-grade water-resistant and stain-resistant fabric

Comfortable, high elastic soft, durable sofa

Faux leather sofa&Eco-leather,Environmentally friendly and sustainable, and more durable
Natural leather will have variations in color, shade, and texture — no two piece sare alike
Some assembly required (approximately 15 minutes)
Specifications
Style/type:Petal Sofa 

Size:as shown
Color:as shown